There's more to Arizona than just desert and cacti, the state is ushering in a new era of viticulture. Say hellooo Arizona wine!
There are more than seven million residents in Arizona, and its population and economic development is continuing to grow. Yet, many locals and visitors are still unaware of the wines Arizona is producing. With three prominent wine regions in the state, the wine scene is poised to exploded too. Get a jump start on sipping your way through the Arizona wine country with Carpe Travel's Arizona Wine Travel Guide.
What makes Arizona wine so amazing? Read one to learn more about the wine regions in Arizona and why – and how – you should sip them in.
---
Wine regions thrive between 30-50 degrees of latitude of the equator. Arizona sits close to the 40 degree mark. PERFECTION!!
UNDERSTANDING ARIZONA WINE
It might surprise a lot of you to know that Arizona has an ideal climate for growing grapes. Given the state's variations in elevation, there are a variety of different climates. In other words, it's not ALL desert. According to the Arizona Wine Growers Association, "In the lower elevations of Arizona, the climate is primarily desert, with mild winters and extremely hot summers. The northern third of Arizona and other mountainous areas at significantly higher altitudes than the lower desert have an appreciably cooler climate, with cold winters and mild summers. Somewhere in between these two extremes, pioneering wine growers have found a home for Arizona Wine."
This combined with the Diurnal Effect (the extreme swing in temperature from day to night), dry weather (the monsoon season provides the needed moisture) and high-altitude produces distinctive grapes that are bold and savory.
Where are the Arizona Wine Regions?
Arizona has two official American Viticultural Areas (AVA) – wine growing regions – with another pending approval.
---
An American Viticultural Area (AVA) is a designated wine grape-growing region in the United States distinguishable by geographic features, with boundaries defined by the Alcohol and Tobacco Tax and Trade Bureau (TTB).
---
THE ROOTS OF ARIZONA WINE
Arizona has a rich wine history that dates back to the 16th century when Spanish Jesuit priests began producing wine for religious sacramental ceremonies. In fact, Arizona is one of the oldest wine producing regions in the U.S. The state's wine industry – like all states in the U.S. – was halted in 1920 due to National Prohibition.
According to The Arizona Wine Growers, "The modern Arizona Wine industry was established in the early 1980's, following the development of experimental vineyards by the University of Arizona. Led by Dr. Gordon Dutt, studies were completed demonstrating the feasibility of various wine growing regions. In 1982, a collection of new laws enabled the Arizona Farm Winery Act. The first licensed wineries in Arizona were formed shortly after the enactment of the new law. Dr. Dutt himself formed Sonoita Vineyards, the first winery of this modern era."
Today, the wine industry continues to grow and there are more than 110 wineries, vineyards and cellars throughout the region. Some of Arizona's highest quality white wines include Viognier, Malvasia Bianca and Chenin Blanc. Varietals native to the Rhone Valley have also been widely successful in producing some of Arizona's most popular reds.
---
ARIZONA WINES TO SIP
Today, the Arizona wine industry continues to grow, with more than 110 wineries, vineyards and cellars throughout the region.
PLANNING YOUR VISIT
Read on to find Carpe Travel's first-hand travel tips and recommendations to help make your stay in the Arizona Wine Country a memorable one.
WHEN TO VISIT
---
WHERE TO STAY
---
WHERE TO EAT
---
WHERE TO SIP
Like most wine regions, Arizona's are not in the the heavily populated areas, such as Phoenix, which is the largest city in the state. Many wineries have brought their wines to the masses by opening tasting rooms in downtown Scottsdale and Tucson, creating urban wine trails residents and visitors alike can enjoy and sip local wines.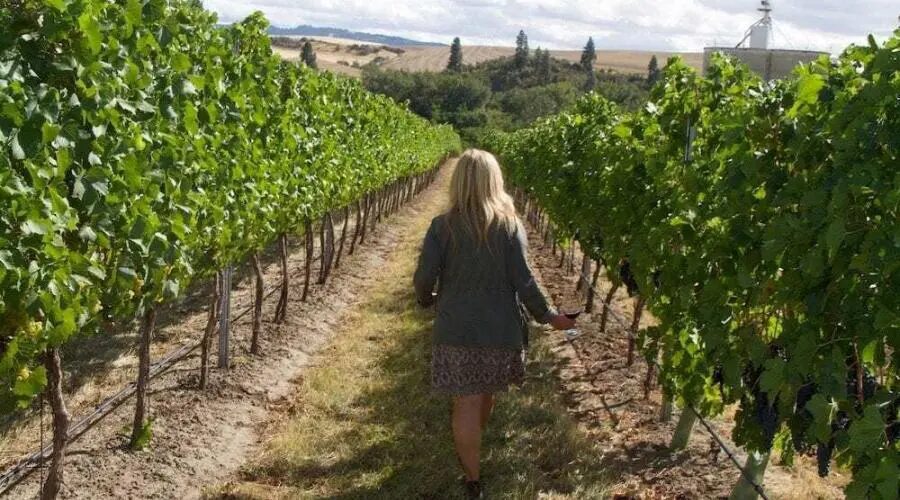 ---
Getting To The Arizona Wine Country
If you are Flying…
If you are Driving…
---
Getting Around Arizona Wine Country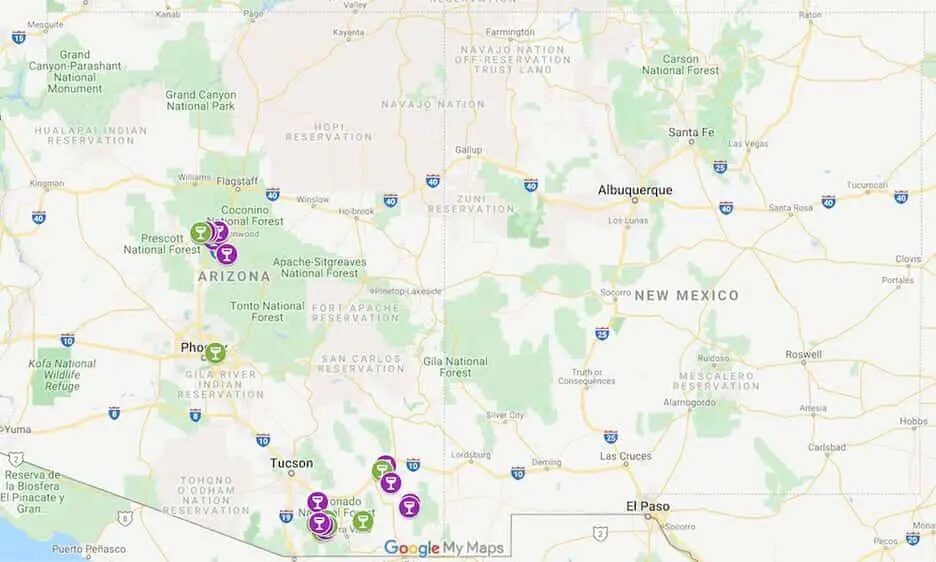 FESTIVALS & EVENTS
Be sure to check out these Walla Walla Festivals and Events that are not to be missed!
From A to Z: Top Wine Festivals in Every State Not to Miss
BEYOND THE VINES
MORE RESOURCES FOR ARIZONA WINE COUNTRY
Arizona Wine Growers Association
WineRoutes App: Headed to the vineyards? Tour wine country like a pro. Download the Wine Routes app and take your routes, wineries, and interactive tastings with you to wine country.