On Friday we had a spectacular night in Florence… We had dinner at Lisa's favorite restaurant in Florence, L'Brincello. She not only goes every time she's in the city, but also every night!
We sit down and it's like being with Norm from Cheers. Beautiful Claudia hugs and kisses her. Not long after Adriano arrives, also with a kiss and a hug.
Before we get too much into the evening with italianos, we must discuss the food. I did a primi of wild boar pasta. It was heaven!
Then, Lisa and I split the traditional Florentine tbone steak, bistecca alla fiorentina. It's a ginormous steak that is basically seared, then served. They serve it by the gram — a minimum of 900! Claudia brought us the cut of steak to view before it was cooked.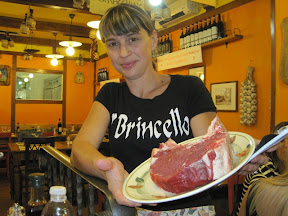 Yeah…that's a piece of meat. When the steak arrived we were a little intimidated. It looked like it could devour us!
We ate as much as we could, but it only looked like we made a dent. Adriano said to leave that was a "delitto", a crime.
Ah, Adriano. Exactly what I would have expected in spending an evening with an italiano; expressive, animated, loud and hysterically funny. I could have taken pictures of him for hours — and I kind of did. It made me laugh the next morning all the images of him on my camera. He kept ordering carafe after carafe of wine, all the while telling us he couldn't go out because he had to work early the next morning. I'm not sure the definition in Italy, but to me, getting in at 2 a.m. is definitely going out!
We talked about driving in Italy. He lamented that once upon a time it was not a problem to drink your vino, then drive home. But now, the polizia take it much more serious. We asked him what happens, explaining back home they give tickets, we go to classes, pay fines. He looks at us and announces, "here, they send you to psychologist!".
The evening ended in the wee hours of the morning after closing down L'Brincello and enjoying one last bottle at a late night trattoria.
The next day is a wine cave and wine festival in Greve in Chianti. Ciao!
Talk to me on Twitter @valeriekq!
– Posted using BlogPress from my iPad