Welcome back to our contributing writer, Valerie Quintanilla, a new mom who's little man already has more stamps in his passport than I did when I was 25. Val is an expat living in Italy and a wine and travel writer for Girls Gotta Drink. Thanks, Val for sharing your tips on international travel with an infant.
By Valerie Quintanilla
I want to start by saying I am no expert on anything parenting-related. I've only been doing this mommy thing for about 10 months and I still feel clueless (don't tell the kiddo that). But, in the last few months our little man has visited three different countries (four if you count our layover in Germany) and I've learned a thing or two about international travel with an infant. So, I thought I'd share, in case it's helpful for any new parents out there.
Our transportation methods have primarily been by car and plane. Lodging including crashing with friends, family, and AirBnb. During our adventures the young lad hit a variety of milestones: he got his first tooth, he started on solids, and he even started crawling. Veteran moms, please keep the smirking to a minimum. I get it, once you are removed from it, it seems easy. But, kindly think back to when you were a newbie. Didn't feel so easy, did it? And, man, doing it while on the road, in a different country, and timezone…that's only a little bit stressful.
With that, I present you, seven tips for international travel with an infant.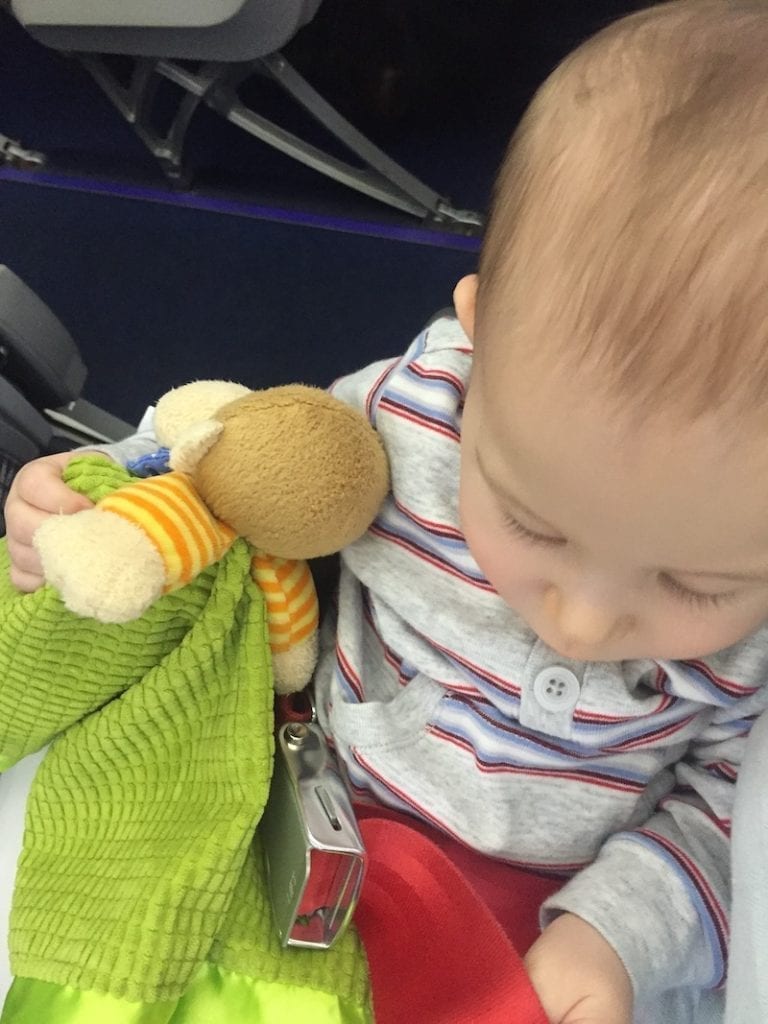 1. Amazon is your friend
This tip was brought to me by a veteran who's second arrived just a month after ours. Simple and to the point, pre-order diapers, wipes, etc. on Amazon in advance of the trip. Be it road trip or by plane, packing is totally different with the wee one in tow. Seriously, how do such tiny humans require So. Much. Stuff. Any space savers are incredible.
Buyer beware: Amazon.com is not connected with Amazon in Europe. We live in Italy and generally buy everything from Amazon.co.uk (United Kingdom). If you order from Amazon.com for a global delivery, you will pay a global delivery fee (read: big bucks). So, find an Amazon in the destination country. Amazon.co.uk does Europe-wide deliveries, but make sure you tick "AmazonGlobal Eligible" under the International Shipping header if you will be ordering from Amazon.co.uk for delivery in other countries. It will only give you items that ship to other countries.
2. Baby wearing is where it's at
I've been singing the praises of baby wearing ever since a fellow expat / mom friend took pity on me and gave me one of her wraps. Baby boy was about seven weeks old, I was a wreck trying to get him to nap, and silent reflux was affecting his sleep – and, my sanity. She taught me how to put it on and like magic, the crying stopped AND he fell asleep. Now, that he's older I've retired my wraps. But, I haven't given up on baby wearing, just graduated to the Ergo Baby Carrier. It's all we used for both the road trip and the trip to the U.S., no stroller needed.
It really helps for flying with an infant.  I could walk up and down the aisle with him and more easily get him to fall asleep. But, note that baby must be in a lap and belted in during take-off and landing. They cannot be in the carrier or wrap.
Flying With An Infant Pro Tip: Homemade baby food is fine to bring on a plane, but to clear security faster, label the container with the measured amount.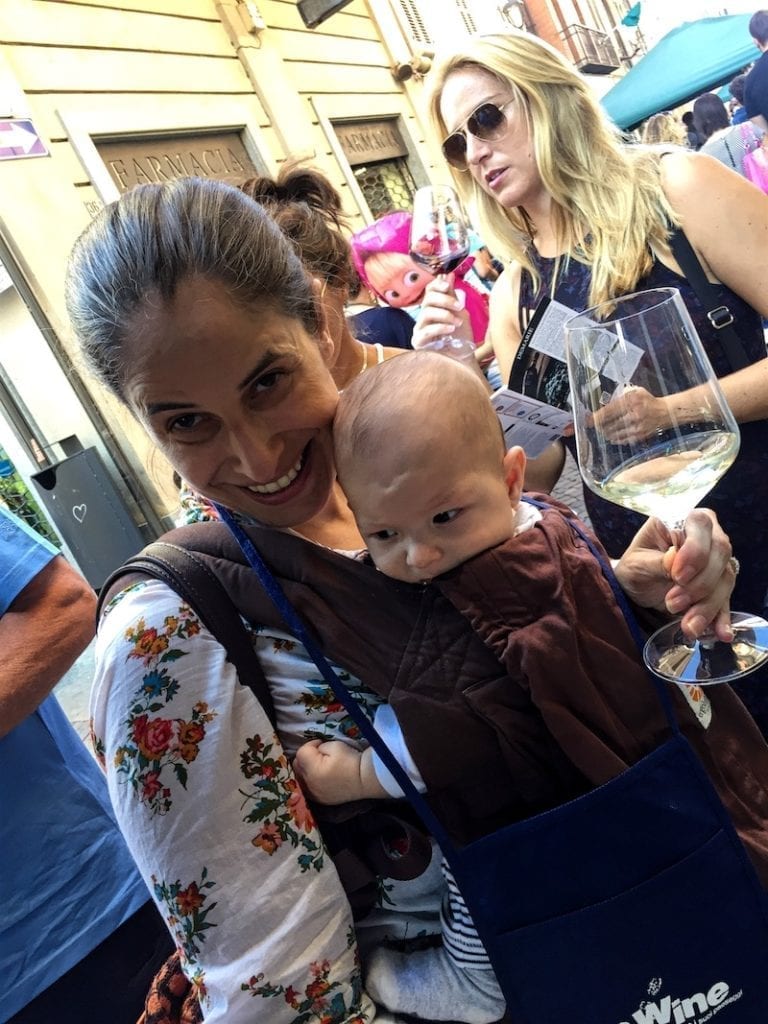 3. Pack sheets and towels
For every trip, I bring a few sheets and towels from home so that a new place feels less strange for him. We have a travel crib that we love, but he's still in a new room, in a new place. So, the least we can do is give him some of the comforts of home with the smell of his own towels and sheets. I always bring two or three so I can change them out with that scent.
4. Rock a bye baby in the travel crib
We bought a Baby Bjorn Travel Crib Light for our road trip and it's fantastic. Set-up is super easy and quick. We use our crib sheets – though, you can buy fitted sheets made for it.
5. Silent Night (ha!)
Anytime you are away there are new noises and sounds that can be disruptive to baby. To drown that out, we use a white noise app on our iPad; using an iPad is really nice because we don't have to get – or pack – a sound machine. It's helpful for both nap time and nights. I use the Sound Sleeper app. You pay about $2 and it will play continuously. When the audio levels climb during a family game of Charades, it's more than worth it. Another friend swears by the Sleepy Sounds app.
6. Use a baby equipment rental service
After making a list of the items we'd need for the trip to the U.S. the minor panic attack commenced. Um, just the big stuff included a baby bath, a high chair, AND a car seat. Well, luckily friends supplied the first two. But, the car seat was still stressing me out, until I came across a baby equipment rental company.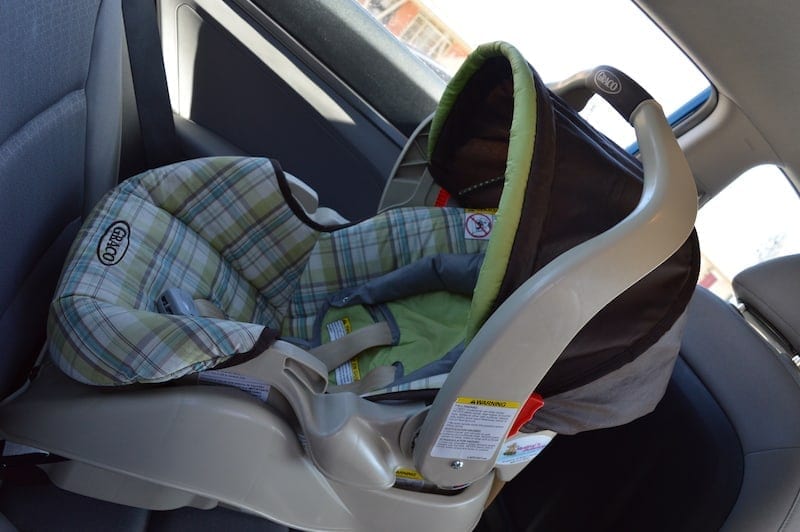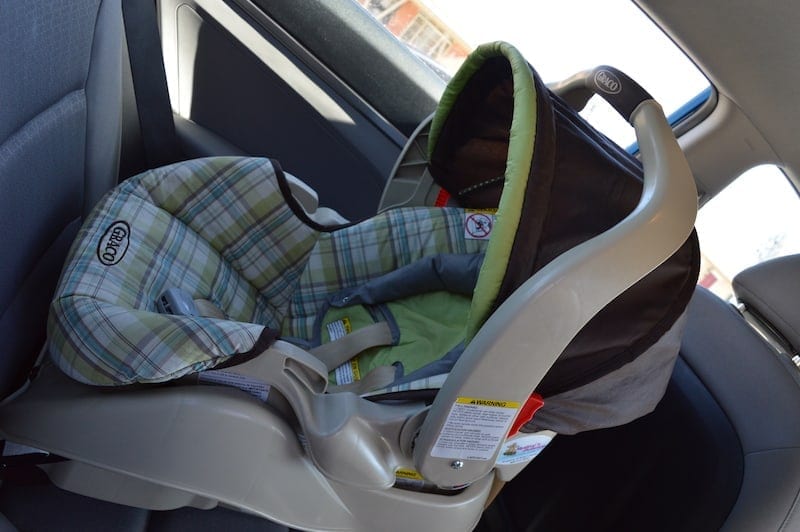 We worked with the Denver office of Baby's Away. I compared and contrasted prices around town. Pretty much everyone was in the same range. Baby's Away Denver was great helping us organize and with drop off / return. They will meet you at the rental car location to deliver your rental(s), but we were doing an off-airport rental to save money. So, they arranged for a drop-off with a friend who was picking us up.
They have everything from travel cribs to high chairs, strollers and car seats, bouncy swings, baby monitors (we brought ours from home – if you are traveling abroad, don't forget the adapters!), security gates, and a lot more. I definitely recommend using them. Even better, there are Baby's Away locations all over the country.
Rentals are done on a weekly or daily rate. And, there is a delivery charge with it being slightly higher for the airport.
Baby's Away – Denver,  +1 720-231-8285
Baby's Away – for all their locations, www.BabysAway.com
Product Alert! Stokke Flexibath
I found this after we got back from our U.S. trip. Our little guy was getting too big for his first tub, but we didn't really want to put him in the big bath yet. In addition, we do a lot of AirBnb apartment rentals on our travels, so there isn't always a tub. I came across this brilliant fold-up tub by Stokke. It would have packed so easily in our suitcase! It will last into toddler years, so we are set for a while.
7. Make people come to you.
Travel, especially international, is hard on adults. So, of course it's going to have an impact on the wee ones. On our road trip, we crossed two countries. In the U.S., we flew to another continent. It's okay to ask people to come to you so you can minimize the disruption to baby's routine. We got our little man back on his normal routine as quickly as possible. We find that he ends up with shorter awake times when we travel, so it was a relief to stick around where we were staying.
We had some family members fly out to Colorado to meet him. And, in the U.K. family and friends drove long distances to where we were staying. We really appreciated everyone being so understanding and willing to work with us.
So, that's what I've got for you on tips for international travel with an infant. We are so glad we did both trips, but we probably would have done the road trip just a little shorter. Three weeks is long for anyone, especially with a baby on board. Happy travels!
What are your favorite – or saving grace – tips for international travel with an infant?
Valerie Quintanilla is an American expat living in Northern Italy's Barolo and Barbaresco wine regions. She and her husband offer wine tour programs and travel planning support. Follow her wine, travel, and expat chronicles at Girl's Gotta Drink, Instagram, Twitter, and Facebook. Salute!
Save
Save
Save