Yes, it's July but it's not too late to plan a summer get-away – even to an international destination. Traveling abroad can be prohibitively expensive but if you want to stretch your dollars and make the most of your vacation, check out these surprisingly affordable international spots Money Under 30  has rounded up.
If this summer is already "gone" check out a few tips on how you can start saving now for your next vacation. Where are you off to next?!?!?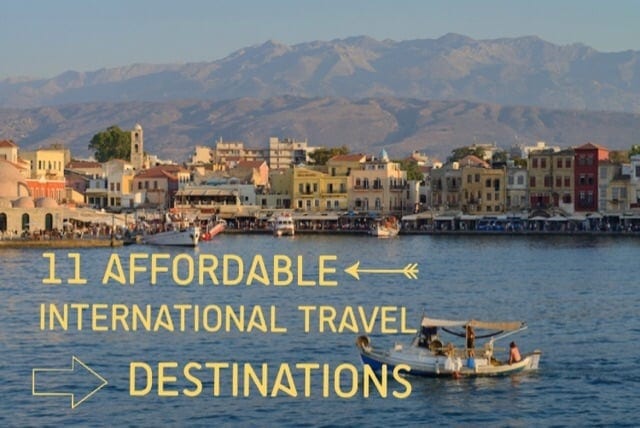 11 Affordable International Travel Destinations to Visit

1. Antigua, Guatemala
Less well-known than other South American hotspots, Guatemala boasts incredible weather year-round, with temperatures in the mid-60's. It's a great break from the balmy summer days and keeps you cool while sight-seeing its historic landmarks. From Mayan ruins like the city of El Mirador to active volcanoes, Guatemala is home to both natural beauty and culture. Luxury hotels can be expensive, but mid-range hotels can be had for as little as $70-100 a night and often includes spectacular views of volcanoes and forests.
2. County Donegal, Ireland
Unlike popular destinations like Dublin, County Donegal is relatively untouched by tourists. County Donegal has spectacular landscapes and views, with quaint, storybook-like towns and tiny pubs. Friendly locals offer warmth and Irish hospitality. It is one of the few places in the world where you can visit the beach and later tour a 15th century castle. Most lodgings are traditional bed & breakfasts with rates around $75-100 a night.
3. Laos
While many people list Thailand or Myanmar on their travel lists, Laos is a gorgeous country that can be much cheaper to visit. For as little as $35 a day, you can stay at top hotels and eat delicious foods while touring incredible sights. Buddhist architecture is a major draw along with the caves of Laos. English is increasingly common among the people of Laos, with many studying the language as the tourism industry grows, so finding your way around shouldn't be difficult.
4. Abruzzo, Italy
For nature lovers, Abruzzo is a perfect antidote to the hustle and bustle of Florence or Venice. A national park gives tourists the chance to go bear and wolf watching and offers both pristine beaches and ski resorts. Of course, no trip to Italy would be complete without food and the pricing in Abruzzo makes it very doable. Many restaurants in the area offer multi-course meals—complete with wine—for $30 a meal, a significant discount compared to other cosmopolitan cities. Lodgings tend to be cheaper as well. You can rent a medieval-style home or a seaside cabin for $50-75 a night. Literal castles can be your temporary home for less than $100.
5. George Town, Malaysia
For foodies looking to experiment, George Town is a budget-friendly solution. With cuisine that combines aspects of Malaysian, Chinese, and Indian dishes, you can eat luxuriously and sample unique flavors and options for just $2. Accommodations are equally affordable, with 3 and 4-star hotels ranging from $10-30 a night. If you're willing to stay at a hostel, you can expect to pay as little as $5 a day for your stay, potentially allowing you to extend your trip.
6. The Great Barrier Reef, Australia
With flight rates down by as much as 40 percent, there's never been a better time for snorkeling and diving enthusiasts to explore the Great Barrier Reef. View the largest coral reef system while swimming alongside tropical fish, dolphins and harmless sharks. Large beaches and affordable glass-bottom boat rides give you the opportunity to tour some of the world's most beautiful formations at a reasonable cost. The closest city to the reef is Cairns, where quality hotels are available for $50-100 a night.
7. Istanbul, Turkey
Istanbul is repeatedly listed as one of the most spectacular tourist destinations in the world, but discord in the Middle East has caused both flight and hotels costs to drop dramatically; high-end hotels can be had for just $50-100. Tour the Grand Bazaar and shop from thousands of vendors, visit the cathedral that was turned into a mosque and is now the UNESCO World Heritage center and, of course, the food is delicious and distinctly Middle Eastern.
8. Crete, Greece
Crete, Greece's largest island, is flooded with tourists in July and August but is far less populated the rest of the year, with cheaper hotels available. Decent accommodations can be found for just $30, but if you're willing to splurge, waterfront resorts are available for less than $100. Visit historical museums, explore white sand beaches and enjoy unparalleled food and wine. Local wineries are often available to tour and offer Cretian wines to sample.
9. Marrakech, Morocco
A city thousands of years old, Marrakech is incredibly beautiful and because of its low prices, can serve as the perfect place for an extended stay. Sandstone buildings, jaw-dropping minarets and a mix of both old-world and new culture make it a unique experience. Marrakech offers world-class spas in the form of traditional hammams, steam room experiences that refresh your skin and mind. For adventurers, you can take tours of the Saharan desert, ranging from a 3-hour tour to a multi-day exploration by foot or by camel. Luxurious hotels with spas, zen gardens, terraces and free Wi-Fi cost between $40-80.
10. Montego Bay, Jamaica
For beach lovers, Montego Bay will seem like paradise. Snowy beaches and crystal clear blue waters make for a relaxing day of sunning and swimming. It's one of the few places where an all-inclusive package doesn't just make sense, it's also incredibly affordable. You can get a 4-night stay in a hotel with waterpark, spa, masseuse, all of your meals included and round-trip air-fare for as little as $650. From surfing lessons to snorkeling, there's plenty to keep you entertained and relaxed.
11. San Juan, Puerto Rico
While a bit closer to home for anyone in the States, Puerto Rico offers a tropical, exotic vacation that is affordable and doesn't require a passport. With long stretches of beaches and modern casinos, San Juan also offers traditional Spanish buildings and old fortresses for sightseeing trips. Take a horseback ride through the rainforest and take a dip by the waterfalls and keep an eye out for exotic birds. There are a ton of things to do in San Juan. Roundtrip flights can be found for under $250 and good hotels for as little as $100 a night, if you want to stay on the beach, expect to pay on the higher end.
Before you go…
To get the most international travel for your dollar, take time to find the best deals on airfare and lodging: Use Google Flight Search to find the cheapest flights—you can even change the purchase currency to detect fares that are less expensive if you buy them from your destination country rather than the United States. And, believe it or not, a travel agent may also be able to help you score the best deal when traveling to far-flung destinations.
Get the details on hotels and vacation rentals from TripAdvisor before you book. You don't want to travel halfway around the world to discover your hotel or apartment rental doesn't match the photos you saw online.
Consider how you'll budget your spending money on the ground. Some credit cards do not charge foreign transaction fees, which can save you up to 3 or 4 percent on your purchases abroad. If you prefer to carry the local currency in cash (and having at least a bit isn't a bad idea), the money changers at airports and other tourist destinations often offer the worst exchange rates. You can use a company called TravelEx Currency to purchase foreign currency with a credit or debit card and get it delivered overnight.
Where are you off to next???
Save
Save
Save
Save
Save