Traveling is great, but can be especially difficult if you have pets. Do you board them? Find a pet sitter? Bring them along? There are a lot options but you have to decide which is better for you and your pet. We regularly traveled with our 14 year-old Beagle, Sophi until we said goodbye to her last November. This summer we welcomed "Little Bear" into our circus, which means he has to become a great traveler or be left behind. It also meant I had to refresh my knowledge on traveling with pets, our Sophi was a pro…
I wanted to share some great resources I've "sniffed out" to help you when you're traveling with your pets. Let me know in the comments if you've used other resources when traveling with pets, I'd love to add them to the list.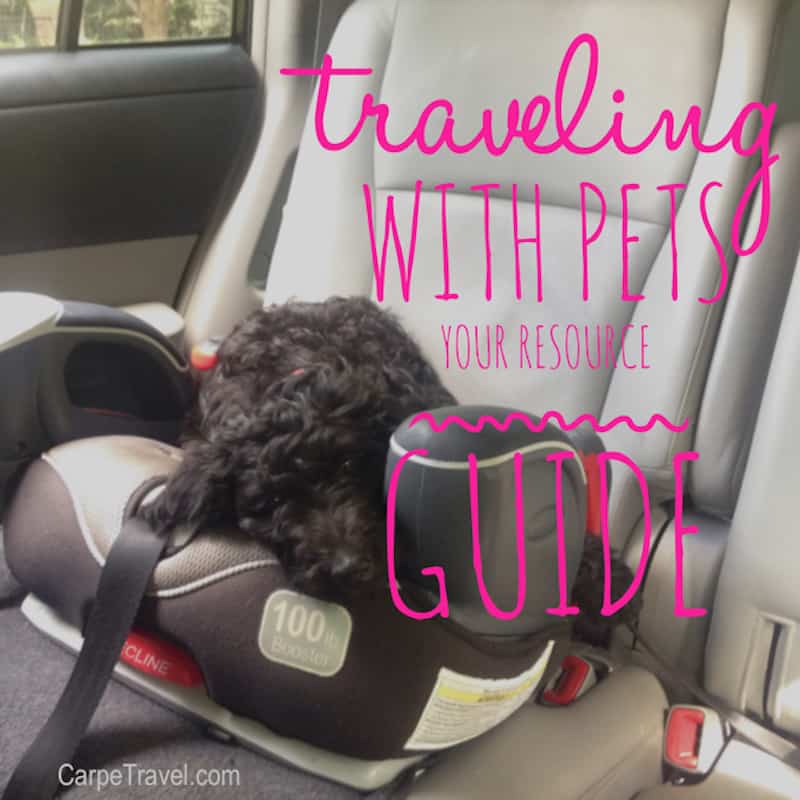 Traveling with Pets – A Resource Guide to Help Bring (or leave) Fido
Find Pet Sitters
Pet sitters do more than just give your pet food and water – at least they should. The Human Society has listed a few tips for choosing a pet sitter. They also suggest you contact the National Association of Professional Pet Sitters (856-439-0324) or Pet Sitters International (336-983-9222) to find an approved pet sitter in your area.
Boarding Your Pet
If a pet sitter doesn't work then you may consider boarding your pet. See what the Human Society has to say about what to look for in selecting a kennel.When looking for a kennel ask your vet for recommendations as well as friends and neighbors. You can also leverage FindPetBoarding.com and GoPetFriendly.com to find boarding facilities and kennels. I found both sites to be easy to navigate and useful sources of information.
Know Current Airline Pet Policies
Want to know the most current airline pet policies for multiple carriers? PetTravel.com keeps an ongoing, updated database that's easy to search and find information on more than 160 airlines. The site also offers a lot of information on traveling with pets including hotels, services and international travel policies.
GoPetFriendly.com
The Gopetfriendly.com site is specific to the United States and Canada, This site really has so much to offer in terms of finding everything in your destination from hotels, restaurants, kennels, pet sitters to more unique search items. For instance, you can search for wineries that are pet friendly, as well as local veterinarians and locations to stock up on pet supplies should you need to find something on the fly. Its road trip planner option is really convenient too. It will download your trip and map form with all of the pet friendly destinations located along your route – rest stops, hotels, pet friendly restaurants, etc.
BringFido.com
This site offers several great features including worldwide search capability, restaurant guides, air travel guides, and other services and attractions that are specific to dogs. I love that Bringfido.com features listings of dog parks, dog beaches and dog friendly hiking trails in many popular travel destinations. The best part? It has a phone number listed right at the top of their website so you can speak with an expert if you need to. That's rare to find these days, but a great option to have.
Pet-Friendly-Hotels.net
This site is specific to the US, yet they tout themselves as having the largest single inventory of pet friendly hotels. Searching on Pet-Friendly-Hotels.net is easy and convenient, and they even offer a few popular pet friendly city suggestions as well. They also have a phone number listed on their site too, so you can call if you need further assistance.
PetsWelcome.com
PetsWelcome.com is a US specific site offers the best of a few worlds. For starters, there is a list of featured chain hotels on the right-hand side that offer pet friendly accommodations. In addition, you can search for pet friendly vacation rentals, should you be looking for something a bit more intimate and warm. Finally, they offer great pet related articles, and feature hot deals and contests as well.
PetFriendlyRestaurants.com
PetFriendlyRestaurants.com allows you to search for dog friendly restaurants, bars, wineries, and breweries in the US and Canada.  Listings include reviews, recommendations and notes on if the establishments have "yappy hours" for Fido. Some also have special menus for dogs.
ChoiceHotels.com
So the site is specific to Choice Hotels in particular, yet they have quite a bit to offer. For starters, they serve up more than 2,500 pet friendly hotels so you're sure to find something near your travel destination. They also offer a list of dog friendly cities, as well as travel tips to use when traveling with your pet. Very handy and convenient, well worth a visit.
Now you don't have to fret the next time you want to travel with your pet. Pack the leash and treats or feel confident in leaving them behind. Tap the resources mentioned above and you're sure to find something convenient, and befitting, for you and your furry friend.
Let me know in the comments if you've used other resources when traveling with pets, I'd love to add them to the list.