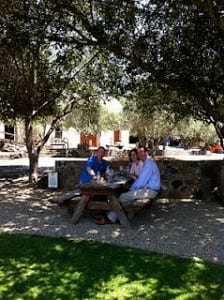 On our first day in Napa we spent a few hours relaxing poolside at Hotel Yountville. We met another couple in for the weekend that suggested we checkout the Regusci Winery in Napa Valley. The following day when we asked our driver for recommendations on where to grab a good bottle and picnic for lunch she also suggested Regusci. I don't believe in coincidence. Everything happens for a reason. We were headed to Regusci.
Regusci Winery in Napa Valley
I have to be honest, I had not planned to participate in the tastings. Frankly, The Husband was just supposed purchase a bottle or two for the group. The next thing I know, he's at the tasting bar with five bottles in front of him and two employees discussing the wine. Really? I had to join.
In a nutshell, Regusci was our find for the trip. Its estate wines include Cabernet Sauvignon, Merlot, Zinfandel, and Chardonnay. The Cabernet Sauvignon and Merlot won my heart. One thing I found interesting is they strictly use American Oak, however, it does not overpower the wine. Very smooth, well-balanced wine with concentrated flavors. Regusci's total production is about 5000 cases.
The Regusci winery has a fun tale. It's been a family owned winery since 1932 and until 1998 only sold its grapes to other area wineries. But in 1998 the family crushed their first vintage of Stags Leap District wines. Regusci Winery opened its doors in June of 1998 showcasing its estate wines – Cabernet Sauvignon, Merlot, Zinfandel, and Chardonnay. Regusci Winery is open, by appointment only, for tours and tastings.
Note we did not have an appointment since he had simply planned to purchase a bottle and sit outside to picnic. We lucked out since it was a Friday they were pretty slow. We did stay to picnic at Regusci and by this time we all needed food. There is only a hand full of picnic tables here so make sure you a blanket in the car to sit on in case they're taken. The winery sits at the edge of the Palisade hills just above the valley floor. The views are amazing as you lookout over groves of olives trees.
Cheers!