I have a confession. I was a bad parent this past weekend. I left my kids at home with Grammy and went skiing in Vail for an entire weekend without them. I started feeling a bit guilty skiing down Riva Ridge seeing little ones in ski class zipping along not too far in front of me. My guilt came and went throughout the weekend, knowing we could have brought the Princesses and they could have spent the days in ski school learning to zip along the runs themselves. But then what would become of apres ski for The Husband and me?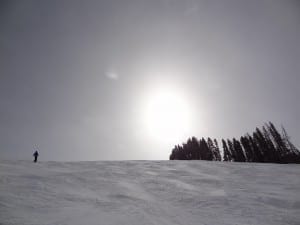 It's ok to be self-fish sometimes and given I have only skied twice in the last five years mainly due to the Princesses – pregnancy, new baby, traveling to/from Russia for Princess Two's adoption – I felt justified leaving them with Grammy. (Ok, I know I could have skied more in the last few years but it's felt impossible…) We've tried to take Princess One now twice to the mountains for ski school. The first weekend trip landed us in the hospital with her on oxygen; driving back into Denver at midnight so she could breath. The second, well we ventured up to Echo Mountain (now closed) for a private lesson. She loved it! But, she wasn't quite ready for it physically, after 30 minutes she was finished and she was terrified of the idea of us leaving her for a day in ski school. As for Princess Two. She's just not physically or emotionally ready for ski school. Next year.
So you see, I was justified. It was right to leave them at home I told myself as I helped a little girl in ski school retrieve her ski and get up after a tumble on one of my first runs for the weekend. The Husband had a good laugh. "You can't stop being mom…" Yes, the guilt was pretty bad…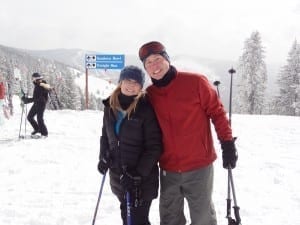 Giving into the guilt I had to ask one of the experts at Vail how to get your kids ready to ski. Are there things you can teach your kids to get them physically ready to ski? And how can you make sure your kids are really ready to ski?
I popped into the ski and snowboard school in Vail Village and was able to do a quick interview with Guy Sedillo, product manage of training and quality, who has also taught lessons for years. Here are a few of the tips he suggested in getting your kids ready to ski.
10 Tips: Teaching Kids to Ski

1. Play in the snow, really just play. Kids who are active and physically fit typically have an easier time learning to ski. But, if you have the chance to play in the snow do it. It's fun and for kids who don't live in areas with snow, it helps them become more familiar with it for lessons.
2. Don't try to teach your kids to ski yourself unless you're a certified ski instructor. The reason being, is that certified ski instructors teach kids technical things kids can understand and do at their own level and their own pace. I loved this one. The Husband has been on a kick about how he can teach the girls to ski himself. Thanks, Guy. Not going to happen, lessons are in their future.
3. Skate before skiing. One of the best activities you can do with your kids before you go skiing to help prepare them physically is ice skating or in-line skating. These two activities really help to teach kids about dynamic balance – balancing on things that are moving. (I think I know what the Princesses will be getting for their birthday's.)
4. Make sure your kids are ok with being away. If your kids aren't typically away from you for long periods of time ski school may be hard for them. Kids who go to preschool regularly, away from their parents tend to do better with long separations from their parents. That's not to say kids who don't attend preschool won't thrive in ski school it's just parents need to prepare them for the fact they're going to be in ski school with a teacher learning how to ski without mom and dad.
5. Kids need to be potty trained. Sounds simple but some little ones still have accidents and being on the side of a mountain isn't really the best spot for one.
6. Three lessons are typically gold. As I mentioned before, parents shouldn't try to teach their kids themselves. Guy also said that typically three lessons is what's needed for kids to really learn how to ski. This isn't one lesson this season, one next and one the following session. It's three lessons on consecutive days or if you live in areas where you can ski throughout the season, it's three lessons in one season. (Better if they're close together.)
7. Make sure your kids are old enough. Kids must be at least three years old to ski at Vail Resort (and all of its properties) but many other resorts require them to be four so check before you go. I rode up the Gondola with a ski school class of six five-year-olds and their instructor, and when I asked when they had begun skiing they all said three-years-old. He mentioned that's when a lot of kids start but they're not always ready – physically or emotionally so it's important for parents to really gauge their kids and not push.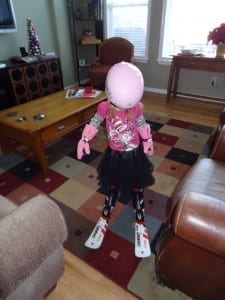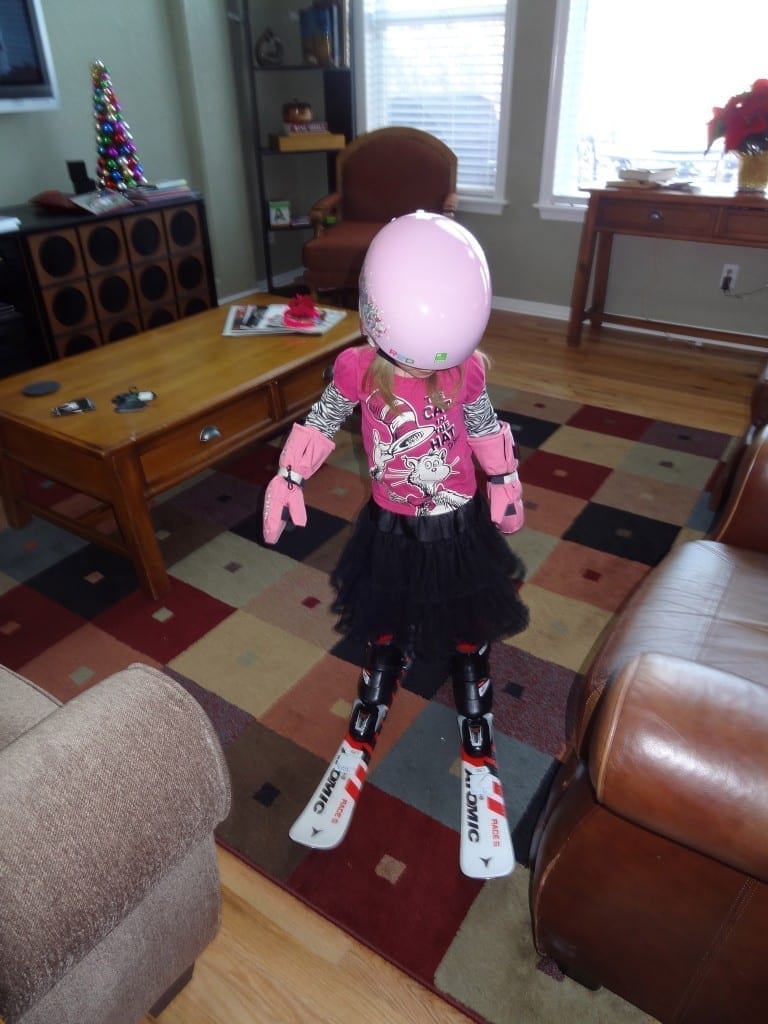 Those were tips Guy shared, here are a few I learned last year taking Princess One up…or rather trying to get her up there.
8. Get the right equipment, including boots. The worst thing is toe pain. It's killed amazing ski days for me in the past. So, Princess One and I got some ski boots before our excursions, brought them home and wore them around the house – on and off for a few hours. We walked up and down the stairs, practiced falling in the snow in the backyard, played a few games and simply got used to how they felt. It also told me they fit her and she wouldn't be in pain the next week on the mountain.
9. Introduce skiing before you go. Talk about skiing. Tell your kids stories about you skiing and how much you've enjoyed it. Or, how much you can't wait to learn since it's always been something you've wanted to try. Then show them. Pictures of you skiing or videos. I wouldn't suggest showing your kids videos of back country heli skiing, crazy jumps and whatnot. No need for risk takers the first time out. But you should pull up some online videos of what skiing is, what it looks like and how people do it. Then it's not so foreign and scary the first time they see it, let alone experience it.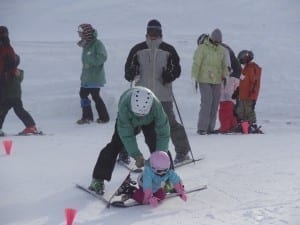 10. Falling is an art form. Ok, not really but it sounds good. Most kids are experts at falling down. Mine are. But, I've had both Princesses practice falling down in the snow and the carpet so they're not afraid of it when we do ski. When I spoke with Guy at Vail he did tell me they don't really teach kids to fall down. It happens and will happen and most kids are simply used to falling. They don't seem to get too upset by it. Well, my diva's do and making it a funny thing beforehand did help Princess One in her lessons last season.
Today I linked this post up with Travel Tips Tuesday on both Suitcases and Sippy Cups and Walkingon Travels. Check out the other travel tips!