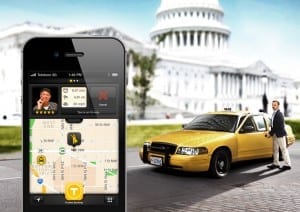 I love taking taxis but the thing I have never really liked about it is the fact I'm simply getting into a car with a stranger. And after our little incident in Brazil, I'm a bit more cautious. I know, I know it's life and a gal needs to catch a cab but as a girl it's something that's pounded into your brain from birth. So, when I find a cab driver I like and feel comfortable with, I keep his card and he's my guy during my travels. When I read about myTaxi coming to the US, I got a bit giddy. Here is a very cool app (and online service) you can use to not only book your taxi but to "prescreen" your cab drivers, see customer reviews and share your experience with others.
myTaxi started in Europe and entered the US market last week; it launched in Washington, DC and has plans to expand to more US cities. myTaxi currently has more than 18,000 registered taxis worldwide and 2.3 million users. Here a few key features passengers can leverage.
Peer-to-peer connection between driver and passenger, including driver photos, information and phone numbers
A ratings system for selecting and reviewing your taxi driver and a favorites list to save your favorite drivers for future pickups
Live tracking of taxi approach on display including arrival time, fare calculator, distance and automatic positioning via GPS
View of every myTaxi in the area on the taxi radar
Pay secure and easy via smartphone with myTaxi Payment
I'm not planning to be in DC any time soon so if you're there and try out myTaxi, please let us know your thoughts on the service.